Positive Pressure Air Breathing Apparatus
【Positive Pressure Air Breathing Apparatus Brochure Download】
正压式空气呼吸器 Positive Pressure Air Breathing Apparatus (RHZKF Series)

类别 Type

RHZKF 6.8/30
RHZKF 9/30

填充气体 Filling Gas

空气 Air

使用时间 Usage Time

≥

60分钟 (30L/min 呼吸时)

≥

60 mins
(30L/min under breathing)

≥

90分钟 (30L/min 呼吸时)

≥

60 mins
(30L/min under breathing)

总重量 Total Weight

9 Kg (不含空气)(exclude air)
9.5 Kg (不含空气)(exclude air)

相关认证 Related Approval

通过中国国家消防装备质量监督体验中心认证
Approval of China's National Fire-fighting Equipment Quality Inspection Center

填充气体




Filling Gas

材质 Material

碳纤维复合材料 (碳纤维全缠绕型)
Carbon Fiber Composite Material (Full-wrapped Carbon Fiber)

内容积 Water Capacity

6.8L
9L

额定工作压力 Service Pressure

30MPa

水压试验压力 Test Pressure

45MPa

重量 Weight

约4Kg (阀门重量除外)
4Kg approximately without valve
约5.3Kg (阀门重量除外)
5.3Kg approximately without valve

产品标准 Standard

Q/MT-02-2011 《呼吸器用复合气瓶》
《Composite Cylinder for Breathing Apparatus》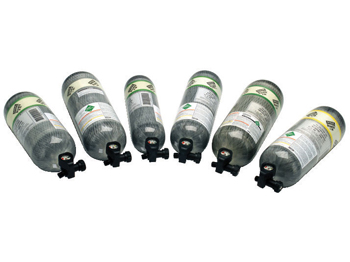 Product Name:
Product Introduction:
Positive Pressure Air Breathing Apparatus
Positive pressure air breathing apparatus is a kind of isolation type breath protection equipment. RHZKF series products features light weight, small volume, convenient in operation and maintenance, comfortable for wearing, stable performance etc. which are the excellent personal breath protection apparatus and widely used in the application of fire fighting, petroleum, chemicals, metallurgy, power, shipping etc.